For the first time in my working life, I got a snow day off from work yesterday. The massive snowstorm that barreled through the eastern two-thirds of the country dumped a little more than 20 inches of snow where I live. Combined with intense winds, that resulted in massive snowdrifts, everything shut down completely. Late on Tuesday night, my employer decided to call it a snow day for Wednesday. My kids' schools were closed on Wednesday also.
Since my kids had parent-teacher conferences scheduled for today and Friday, I had taken vacation from work so that I could meet their teachers. Combined with the snow day on Wednesday, I now have a 5-day stretch off from work. What a relief!
The snow started on Tuesday evening along with winds that topped 50 mph at times. I had snowdrifts of up to 2 feet on some parts of my driveway while other parts had less than 4 inches of snow on them. I had gotten my electric snowblower (this post describes my research into different types of snowblowers and my final choice) a couple of days back, thankfully. I came back from work a little early on Tuesday, and immediately went out to test my snowblower out.
Long story short, the snowblower performed flawlessly. I will write up a separate review of the snowblower in another post. The storm continued blowing throughout the evening, dumping about a foot of snow by 11 PM on Tuesday. At that time, I went out again and decided to clear the driveway as best as I could. It took me about an hour with the snowblower, but once again, the little machine worked like a champ cleaning out my driveway completely. I had my doubts when I saw the massive amounts of hard compacted snow deposited at the end of the driveway by street snow plows, but the snowblower did not have any self-doubt!
I went to bed at about midnight on Tuesday night. By that time, I knew I did not have to go to work on Wednesday. So, I slept in on Wednesday to compensate for the hard work I had done the previous night as well as to compensate for my usual routine of getting up early and running to catch my train every weekday. When I woke up on Wednesday morning, the snow had stopped, but it was still quite windy. Snow drifts were piled up to two feet high against my garage door and other sheltered areas. The rest of my driveway had about a foot of snow on it.
Time to to battle with the snow demons once again. My new weapon was more than a match for the puny snow demons though! In one hour, I had cleared the entire driveway. I also freed my wife's car (which is usually parked on the driveway), and cleared up its parking spot before moving it back there. Later in the day, I had to take the snowblower on another outing to the end of my driveway because an incompetent street plower had piled up about a foot and a half of ice and snow across my driveway entrance by overzealously clearing the street all the way to the curb. Now my snowblower is enjoying a well-earned rest in the garage. So far, a solid 5 out of 5 for the little champ! To the left, you can see a picture of my snowblower against a backdrop of the massive 3 or 4-foot high wall of snow it created when it cleared the snow at the front of my driveway.
One of my neighbors has a massive two-stage gas snowblower that probably cost him in the four figures. He did not clear his driveway on Tuesday night, instead choosing to do it all after the storm passed on Wednesday. He was out for 2 or 3 hours on Wednesday morning, struggling with almost two feet of snow piled up on his driveway. My snowblower would have had a lot of trouble with that amount of snow too, so it was a good thing I decided to take two passes at it, rather than waiting to do it all at once. But the total amount of time I spent clearing the snow was the same as what he spent (in fact, I probably spent a little less time than him), so having a bigger, more expensive machine does not guarantee that you will be done in any less time than someone using a tiny $200 toy!
The 20 inches this storm dumped on me is supposedly the third biggest snow event in the history of where I live since weather records have been kept (starting about 140 years back). It just didn't feel like such a huge inconvenience to me though. But the pictures in the newspapers of stranded cars and impassable highways are quite dramatic. I would probably feel quite a bit differently if I had spent the last 4 or 5 hours trying to dig out of this amount of snow with my shovel. For once, my timing seems to have been close to perfect!
Work is still a case of three steps forward, two steps back. Now my manager wants a new timeline for the project given that the original timeline got wrecked because of all kinds of problems (I wouldn't go so far as to say "unanticipated problems" because though I did not foresee the exact nature of the problems that arose, I knew well in advance that there would be enough problems to keep us busy from here to eternity). New problems keep cropping up though, so I don't know what kind of timeline would make sense to my manager. If I come up with a timeline that I can actually adhere to, my manager would probably dismiss it as being overly pessimistic and bloated. And if I come up with a timeline acceptable to him, I will probably get dinged for missing the deadlines in it due to problems that are out of my control. Damned if you do, damned if you don't! But then, what's new?!
I have been producing a steady stream of posts on my blog since my last update. During that time, visitors from four new countries have been to my blog. Those new countries are Martinique, Uzbekistan, Azerbaijan and Guernsey. With these four, my blog has now had visitors from 165 countries.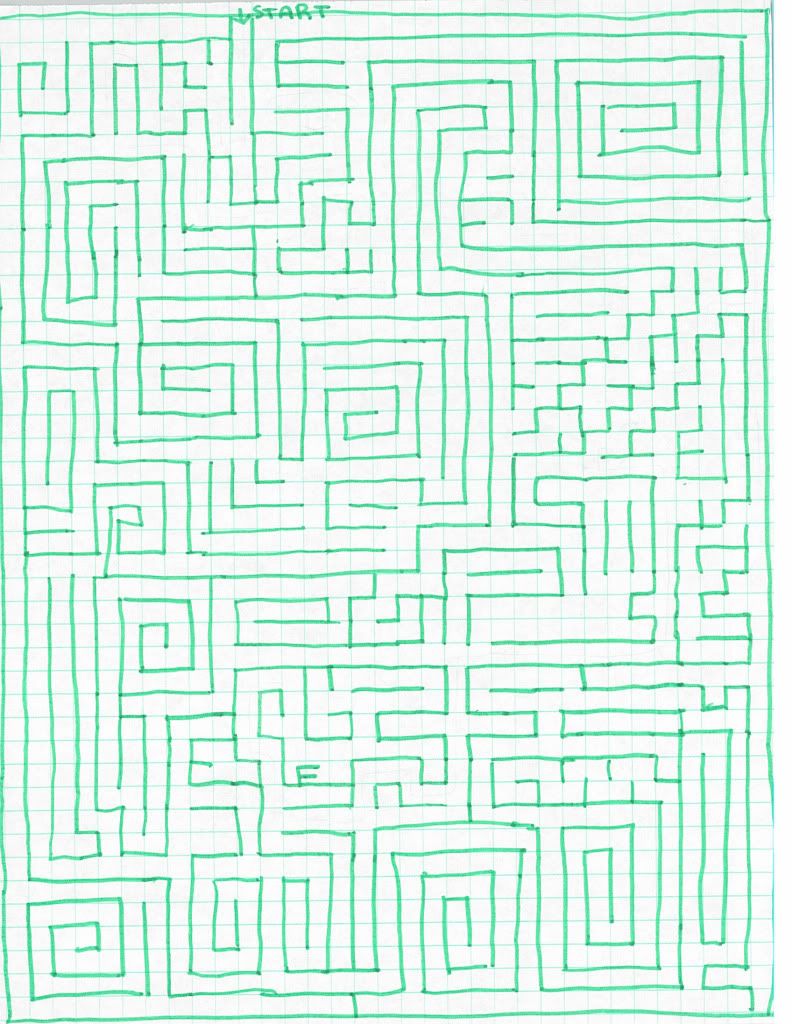 My daughter read a book about mazes, and got interested enough to start making her own mazes. She wanted me to sit down and solve the mazes she came up with. I made a deal with her. Instead of solving them, I would put them up on the web, in my blog. I told her that instead of having a single person trying to solve her maze puzzles, every visitor to my blog would be trying to do the same thing. That appealed to her, so if you do try her maze, please leave a comment saying you appreciate the hard work my daughter put into creating the puzzle for your enjoyment! Click on the picture on the left to get to a full-sized version of the puzzle. I will post more such puzzles in future posts.
My Omron pedometer ran out of batteries yesterday. The user manual for the pedometer mentions that the usual battery life of the pedometer is 6 months at 10,000 steps per day. I have been averaging about 15,000 steps per day since I got the pedometer on August 20th of last year. So, I am actually surprised that the batteries lasted as long as they did. I would have expected the pedometer to require a battery replacement at the end of last year.
Because our basement is about 10 degrees cooler than the upstairs rooms, it can get a little uncomfortably cold down there in the winter. So, I keep a space heater down there, and us it when we need to be in the basement for any reason. That space heater died a couple of weeks back for reasons known only to itself. My wife has been asking me to get a replacement for it ever since. It is now time to go do some shopping to replace the space heater as well as to get a replacement battery for my pedometer. So, this is going to have to be it for this post. Stay warm, stay safe. It is just a few more weeks of winter, not the beginning of the next ice age (I hope!).